Eating Porridge Twice A Day Is The Secret To Long Life, Says World's Oldest Family
With a combined age of 1,075 years, the Donnelly family have revealed the secret behind their longevity – porridge oats.
Inducted into the Guinness book of world records, the 13 siblings from County Armagh grew up on a farm with a diet that consisted of locally sourced ingredients including free-range pigs and chickens for bacon and eggs, as well as vegetables grown in their own garden.
However, the family has revealed that the one food that has really fuelled their record-breaking long lives is porridge, and not just for breakfast.
"We've always followed Daddy's habit of that nice warm bite before sleep," said Joe Donnelly, the 72-year-old youngster of the clan.
"Porridge at around 10 pm, then again for breakfast at 7 am. Cooked oats, milk, a spot of apple jam on top."
Of course, tucking into a bowl of porridge twice a day is just part of their wholesome diet, which also sees them enjoy a wealth of fruits, vegetables, and meats produced on their 100-acre farm.
"Our diet has never been from processed of polluted foods," Joe added.
"We worked with nature, everything eaten was either grown or reared by us."
The clan also steer clear of alcohol and experts have questioned whether that has played a role in their incredible longevity.
The only exception to this teetotal role came from their mother who would drink an entire bottle of Buckfast after each birth "to build her up again."
The Donnelly's parents, Peter and Ellen, established the family farm in 1921 and had 16 children in total. However, three of the children died leaving the surviving siblings who range in age between 72 and 93.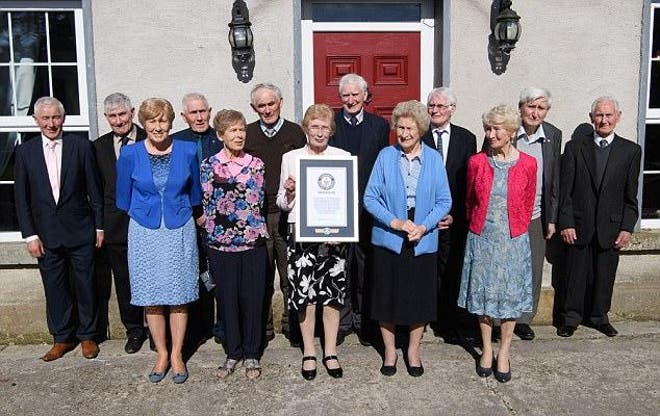 Since entering the Guinness book of world records, the clan has praised what would now be considered an organic diet.
But, it's porridge – a food shown to lower blood pressure, combat diabetes, lower cholesterol and protect the body against heart disease – that they ultimately credit their remarkable health and endurance too.